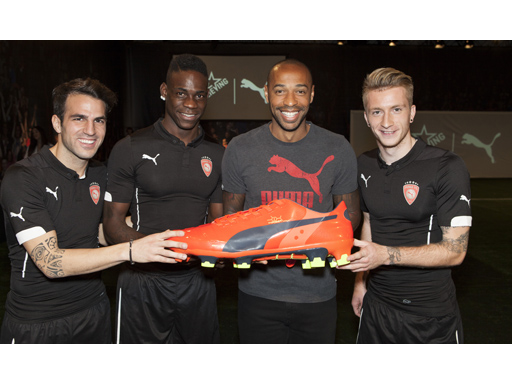 Studies show that a bare foot generates a more powerful kick than a booted foot through non-restricted flexibility. However, players experience a loss of control and accuracy over the ball due to the natural contours of the foot. evoPOWER features the Gradual Stability Frame (GSF) which is an innovative spine in the sole plate that allows the boot to bend both ways, enabling the boot's movement to be as close as possible to the biomechanics of the bare foot and replicate its natural power. This is further enhanced through the Adap-Lite special upper that only stretches vertically. Control and accuracy are improved through AccuFoam insert located on the upper which, upon impact, creates a smooth and flat kicking surface.

Throughout the boot's development, PUMA worked with independent experts to test and prove the power and accuracy of the evoPOWER boot. PUMA players Cesc Fàbregas and Marco Reus also tested the boot, providing important feedback.

Cesc Fàbregas said, "Taking inspiration for a football boot from an actual foot sounds like the most obvious thing in the world, but in all the time I've spent in football, it's the first time I've heard of this being done. When you try on these new boots, they are actually quite different to what we have worn before. They are so much more flexible; the way they bend with the natural shape of your foot really helps you to shoot harder."

Marco Reus commented, "Shooting from distance is a key part of my game, in open play and free kicks. Having a boot that maximises power in these instances is necessary to help you capitalize on these moments, and this evoPOWER boot gives me a lot of confidence. I like the thought behind it and have tested it a lot. You can feel a genuine difference – so much so, it actually surprised me. This is a very exciting new boot PUMA have created."

Mario Balotelli added, "I'm new to the PUMA family, and the football boots they produce were one of the reasons for me signing the deal. The evoPOWER boot impressed me from the first day I tried it in training, I hadn't really seen a boot like it before. What PUMA say about it is true, the flexibility helps create a better contact with the ball and generate really good shooting power."

The evoPOWER boot and the full range of evoPOWER accessories and apparel are on sale beginning this month.